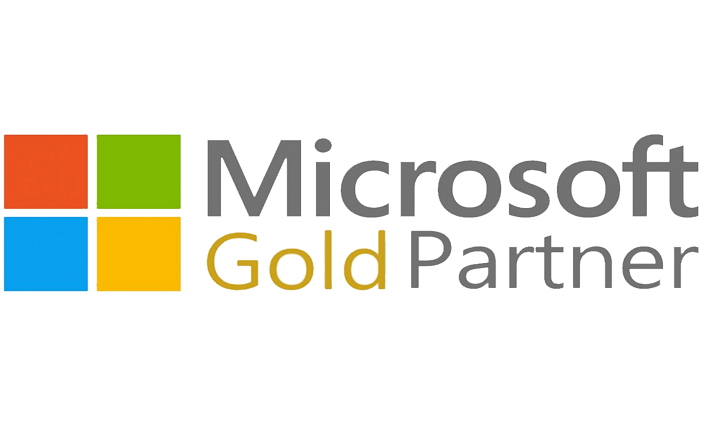 Microsoft Gold Partner
Microsoft Gold Certified Partners are Microsoft's most highly accredited independent technical solution providers. Becoming a partner requires the use of Microsoft technology as the primary platform for the firm. A Partner with Gold Competency has a specialized skill set when it comes to implementing a technical solutions.
A Microsoft Partner with a Gold Competency must undergo regular audits to demonstrate their proficiency, skill set and experience. The Microsoft Certified Partner tiers are designed to recognize the level of business that the Partner is operating at and the specific skills accumulated during the time of providing the service.
All certified Microsoft Partners can get all the latest product training materials as well as having a hands-on advisory service for pre-sales and deployment. In addition to this, Microsoft Partners such as ourselves can access Microsoft Partner Signature Support which includes advanced tech support for Microsoft Office 365, Microsoft Azure and Microsoft Dynamics 365 / CRM online. This of course is a massive benefit to users as customers benefit from continuous support, insight and help they need to run their business smoothly.
The competency assessments contain both skills and individual product knowledge tests via exams and performance tests to certify the Microsoft Partners competencies ... Read more
Gold Certified Partners are Always Up to Date
Microsoft's solutions are always evolving, and so are the competency requirements associated with them. Gold Partners stay on top of these changes. it makes sense to choose a Microsoft Partner who knows how to leverage the latest Microsoft technology to help your business succeed.
Gold Partners Meet the Highest Standards
Microsoft Gold Certification indicates that a Partner meets rigorous standards set by Microsoft -- and meeting these standards is increasingly difficult. To be more specific, Microsoft requires that individuals within an organization clear various technical exams before the organization receives Gold Certification.
What does this mean for your business? For one thing, you can be sure that a Gold Certified Partner knows what they're doing. Additionally, it's not just one or two people at the partner organization who are familiar with the latest Microsoft tech: a Gold Partner will have a number of highly qualified staff members on hand who can help you. This means that internal turnover at an organization won't cause problems for a particular project or engagement.
Remember there's a difference between an organization having a large staff and maintaining a sizeable Microsoft Certified team. If the Partner you choose is a Gold Partner, they will have a "deep bench" of highly qualified team members.
Gold Partners are Directly Connected to Microsoft
Gold Partners have direct access to advanced support services within Microsoft Business Solutions. Which results in faster response times and top-notch support. Gold Partners also have the ability to escalate a case when needed.
Gold Partners Offer Proof of Concept
Because Microsoft Gold Partners have access to various product licenses, they're able to develop demos that offer clients proof of concept. This means that a Gold Partner has the ability to offer a client a test drive before going all-in on a solution.
Gold Partners Have Happy Employees, Which Means Happy Customers
Happy employees mean less turnover -- and that leads to happier customers. Employees in the tech sector need ongoing professional development to keep up with the latest industry advancements, and that's precisely what we offer our employees at Amicus Technology as a Gold Certified Partner. There's also a level of commitment that comes with working for a Gold Partner that you simply won't find elsewhere.
Amicus Technology is a Gold & Silver Certified Partner in three different areas as of 2020, including the following:
Gold Application Development:

Demonstrates our expertise in providing development services on an enterprise-proven platform.

Gold DevOps:

Earning a Gold Competency in Microsoft DevOps means that a business understands both the tools and the processes necessary to help enterprises to grow into a robust, mature DevOps framework via the utilization of Microsoft's toolkit.

Silver Application Integration:

The Microsoft Silver Partner Application Integration competency recognizes those who integrate unique applications and solutions into various products across the Microsoft ecosystem and demonstrate expertise in a hybrid integration platform.